Last march, Me and my brother went to Hong Kong as part of my adventures in trying marathon/half marathon around the world. If there is eco-tourism, why not sport-tourism. I've also done half marathon in Kuala Lumpur and in Singapore. . Semuanya self sponsored....bilatah agaknya kan kana sponsor ani??We were there for 4 days/3 nights
The exchange rate was B$1 = HKD$5


Kowloon Mosque and Islamic Centre which is just 10mins walks from our hotel - Salisbury YMCA Hotel
One of the Halal restaurant in Hongkong which is 5 mins walks from the hotel. For reference on halal restaurants around the world, check this website
http://www.zabihah.com/
The owner of the restaurant. He is a Singaporean and can speak Malay
To cross from the mainland to the island, it only costs around B$0.20. tak caya ?!!.....maritah ke sana...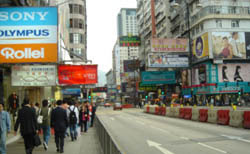 the hongkong street and its very safe here.....don't believe what you see in the movies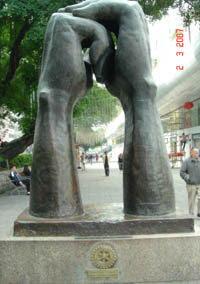 The only bicycle shop in Hongkong which sell the latest bike equipment. Mostly they sell Cannondale and Scott - http://www.flyingball.com/
Nasib baik bekurung....kalau nda......hmmmmm !!!!!!
Mrs pinky piggy n daughters at the Hongkong International Airport.


SCB Hongkong Marathon 2007 - 21km with a time of 2:15:21



SCB Singapore Marathon 2006 - 21KM with a time of 2:08:41
AmBank KL International Marathon 2006 - 21Km with a time of 2:11:35
Next target, i want to try Great Wall of China Marathon (http://www.great-wall-marathon.com/), Tokyo Marathon (http://www.tokyo42195.org/) and one of the marathon races in Thailand. Also I would like to try vertical run such as the KL Towerthon and the Singapore Swiss Hotel Vertical Marathon Run (http://www.swissotelverticalmarathon.com/)

p.s. my personal best time (pb) for half marathon (21km) is 1:59:37 during the SCB greatest race on earth team selection trial held on 29th July 2007 at Nationa Stadium